The People Behind the Cause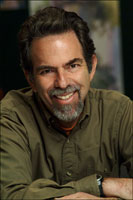 Andy Lipkis
TreePeople Founder and President

Andy Lipkis was only 15 years old when he began planting trees to rehabilitate smog- and fire-damaged areas in Southern California's mountains. While still in college, he founded TreePeople and has served as its president since 1973.
Mr. Lipkis has always been a guiding light for the community forestry movement. He has designed numerous programs that have increased citizen involvement in urban tree planting and care. With his wife and colleague, Kate Lipkis, he wrote The Simple Act of Planting a Tree, a step-by-step guide to organizing community planting and tree care events. Published in 1990, the book has sold more than 50,000 copies. Mr. and Mrs. Lipkis co-founded the Citizen Forestry Support System – a program that supports organizational effectiveness in citizen tree groups nationwide. Mr. Lipkis coined the term "citizen forester," referring to the thousands of volunteers TreePeople has trained to plant and maintain trees on urban streets. The term has been adopted by tree planting organizations throughout the United States. Across the country and around the world, Mr. Lipkis has addressed and assisted groups and agencies involved in the linked issues of environment, urban forestry, sustainability and water and energy use. These include the United Nations, the U.S. Environmental Protection Agency and the Global Tomorrow Coalition.
Mr. Lipkis's creative programs have included airlifting bare-root fruit trees to Africa, numerous disaster relief efforts during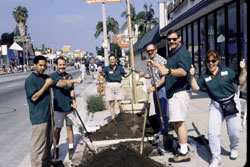 flood and fire, serving on the team that designed L.A.'s curbside recycling program and inspiring the planting of one million trees in Los Angeles before the 1984 Summer Olympics. After L.A.'s 1992 civil unrest, Andy co-created the Urban Greening Initiative of the USDA Forest Service, which brought $2.5 million in jobs programs and urban forestry projects to the community. Mr. Lipkis identified the opportunity to convert a $200-million schoolyard re-paving project into a program which promises to remove up to one-third of the asphalt from L.A.'s schools, replacing it with trees, gardens and permeable surfaces. Working with the school board's blue ribbon citizen oversight committee, Mr. Lipkis successfully demonstrated the energy savings and convinced the school board to change its paving policy and commit long-term maintenance funds for greening.
Sensing a need to broaden TreePeople's canopy and deepen its roots, Mr. Lipkis initiated the T.R.E.E.S. Project. Transagency Resources for Environmental and Economic Sustainability promotes agency cooperation and citizen involvement in solving urban environmental problems. Stormwater best-management practices and strategically planted trees are among the elements of its innovative approach to managing the city's infrastructure as a living watershed. The T.R.E.E.S. Project has published the handbook Second Nature, created a GIS-based cost/benefit model, built several demonstration projects and influenced the County of Los Angeles Department of Public Works in its decision to fold several functions into a Watershed Management Division. Mr. Lipkis and the T.R.E.E.S. staff have been working with the new division on a $100-million project to retrofit a 2,700-acre, 8,000-household watershed in L.A.'s San Fernando Valley. The Sun Valley Watershed Project will coordinate efforts and leverage the resources of agencies, nonprofits and citizens to solve a chronic flooding problem and bring other environmental and economic benefits to the community. The project is viewed by local, state and federal agencies as a promising model of sustainable urban watershed management.
Mr. And Mrs. Lipkis were named to the United Nations Environment Programme's Global 500 Roll of Honour. They also hold American Forests' Lifetime Achievement Award. In 1991, President Bush named TreePeople the 440th Point of Light. In 1998, Mr. Lipkis was honored as Founder of the Year at National Philanthropy Day.
The Los Angeles and San Gabriel Rivers Watershed Council honored TreePeople with its 2001 President's Award. The award described TreePeople as the outstanding nonprofit in the watershed and cited the T.R.E.E.S. Project for its leadership in developing a sustainable watershed management plan for Sun Valley. In 2001, Andy Lipkis and Dorothy Green shared the honor of receiving the Donald Hagman Award from the Southern California Association of Governments Advisory Council for individuals who have made outstanding contributions to improving the quality of life in the

Southern California region.
TreePeople was among only 15 agencies worldwide to be honored by the Salt Lake City 2002 Olympic Committee, receiving the Spirit of the Land Environmental Education Award. Also in 2002, TreePeople received the Los Angeles Regional Water Quality Control Board award for Water Quality Conservation for advancing an integrated approach to urban watershed management.
The Sun Valley Watershed Project was highlighted in the United Nations World Forestry Organization's State of the World's Forests 2003 as an example of partnering to create a sustainable water supply. The same year, TreePeople broke ground on the new TreePeople Center for Community Forestry, a state-of-the-art environmental education campus and gathering place for local, national and international action to create healthy, sustainable cities.
Mr. Lipkis serves on the Board of Directors of the National Tree Trust, the Los Angeles Conservation Corps and the Los Angeles/San Gabriel Rivers Watershed Council. He sits on the Board of Advisors of the Natural Step and the Environmental Media Association and has served on the faculty of the Urban National Forest Academy.
Questions & Answers With Andy
1) What inspired you to get involved with conservation efforts?
As a 15-year-old camper at Camp JCA in the San Bernardino Mountains, I noticed that many of the pine trees in the area were dead or dying. I soon learned that this wilderness was falling victim to smog creeping up from the L.A. Basin. Smog weakened the trees and left them susceptible to bark beetle infestation -- which killed them. Fellow campers and I joined together to plant smog-tolerant trees on the site of an old parking lot. From that experience, I realized the power of individuals and communities to make a positive impact, and the great need that exists to heal our environment.
2) What is the primary mission of TreePeople?
TreePeople's mission is to inspire the people of Los Angeles to take personal responsibility for the urban forest -- educating, training and supporting them as they plant and care for trees and improve the neighborhoods in which they live, learn, work and play.
3) How can concerned individuals across the country become involved with TreePeople?
TreePeople is a local organization with global impact. Not only have we trained hundreds of "Citizen Foresters" here in Los Angeles, we've also inspired similar organizations and training programs across the US and even overseas. Anyone can get involved with TreePeople by becoming a member, dedicating a tree to a loved one or volunteering with TreePeople.
4) What do you credit for the success of TreePeople in increasing conservation efforts and heightening public awareness?
We've been very fortunate to work with truly dedicated volunteers, government agencies, nonprofits, businesses, schools, members and communities who have taken our message of conservation and personal responsibility to heart. TreePeople would have never been able to accomplish so much -- to plant 2 million trees, educate hundreds of thousands of children, distribute nearly 60,000 fruit trees to communities in need and build a center for environmental learning and community-building in the heart of L.A. -- without all these people.

-- Annie Van Bebber
Important numbers and e-mail addresses for TreePeople:
To volunteer:
818-623-4879 or aschwartz@treepeople.org
To become a member or make a donation:
818-753-4631 or membership@treepeople.org
To dedicate a tree in someone's honor, for a newborn baby, for Mother's Day, for the holidays or as a memorial: 818-753-TREE (8733) or jgoldberg@treepeople.org
To see the latest schedule of volunteer events and activities: visit www.treepeople.org and click on Calendar.
To take a virtual tour and learn more about TreePeople Center for Community Forestry, now under construction: visit www.treepeople.org and click on Help Build TreePeople Center for Community Forestry.
For all other inquiries, call TreePeople's main phone line: 818-753-4600
Read More About:
Tree People


Do you know people like Andy Lipkis?
Every cause should have an angel who has the vision and the persistence to help it reach its goal. Do you know somebody like this? Tell us about them. We're always looking for people to honor on this page. Just write us at...