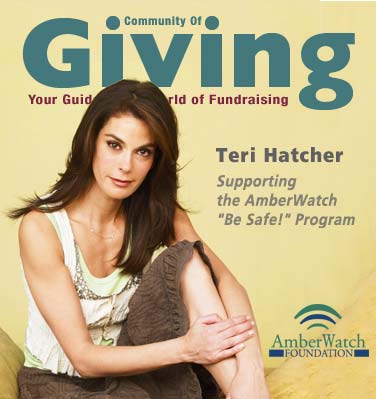 Teri Hatcher:

AmberWatch Foundation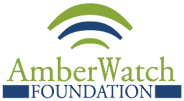 Being a very nurturing human being Teri Hatcher has genuine, heartfelt compassion for any child that has been victimized. Ms. Hatcher understands that education is the key to prevention and that prevention will reduce predatory threats. Her role as the National Spokesperson for the AmberWatch Foundation demonstrates her sincere commitment to this cause.



The AmberWatch Foundation is a 501(c)(3) charity dedicated to the prevention of child abduction and molestation. Through its "Be Safe!" Education Program, the Foundation's mission is to (by the end of 2008) educate 25 million elementary-aged children and their parents on how to identify potential endangerment scenarios and stay out of the hands of abductors and predators.



When it comes to issues of personal safety, AmberWatch believes that if the children and parents can see it, hear it and talk about it, they will learn it! The AmberWatch Foundation "Be Safe!" Education Program was created to dynamically and proactively educate children and parents on the dangers that exist, and how they can protect themselves.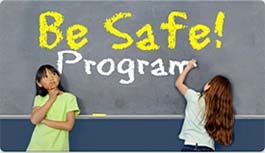 The AmberWatch Foundation "Be Safe!" Education Program is a three-pronged approach to arming children against abductors and molesters... With the help of local law enforcement, the "Be Safe!" curriculum is presented in schools. The "Be Safe!" Book is distributed to children to ignite conversation between parents and children. The message is disseminated through print, radio and television public service announcements nationwide as well.


Sponsor An AmberWatch For An At-Risk Child


The AmberWatch Foundation is all about prevention. And with the AmberWatch, attention is the key to prevention! The goal is to distribute 50,000 AmberWatches to at-risk children by the end of 2006.



Children wearing an AmberWatch can call attention to themselves at the touch of a button if they are feeling threatened or scared. The AmberWatch's trademarked alert signal and super-bright flashing LED lights mean a child needs help!





The AmberWatch is a tool for prevention. That's why proceeds from every retail sale of the AmberWatch go to support the AmberWatch Foundation. But here at AmberWatchFoundation.org, we have the very special opportunity for our visitors to sponsor AmberWatches for at risk children, while funding the AmberWatch Foundation and its mission to educate children and parents across the nation in abduction and molestation prevention. It's a win-win initiative!


Here's how it works:


Oftentimes those children who need the AmberWatch the most are those who would be least likely to get one. But you can make a difference. For every $25 you donate, an AmberWatch will go out to an at risk child. At the same time, your $25 will help fund the AmberWatch Foundation and its mission. It's that simple. All you need to do is decide how many children you want to sponsor. Sponsor a child today!


Order An AmberWatch For Your Own Child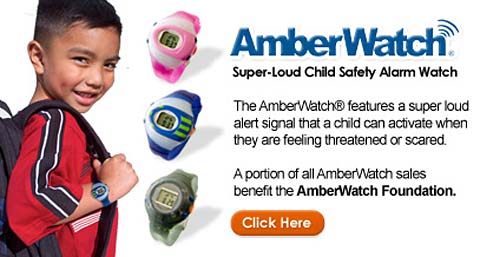 More Information

AmberWatch Foundation Homepage

"Be Safe!" Program

Sponsor An At-Risk Child For An AmberWatch

Order An AmberWatch For Your Child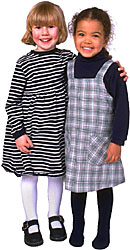 Thanks for visiting FundRaisers.com! Share it with other people for their fundraising campaigns.