The People Behind the Cause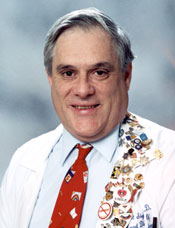 Dr. Stuart Siegel
Championing Children's Charities

Dr. Stuart Siegel made an indomitable decision early in his career. Having a heart for children provided the impetus for his specialization in pediatric medicine. The fatality rates of children diagnosed with cancer in the 1960's disturbed Dr. Siegel and he was determined to improve the prognosis. His compassionate concern for the welfare of children extended to their families and the struggles involved with caring for sick sons and daughters.
Pragmatic details of his patient's lives are a genuine concern for Dr. Siegel. His questions: How do the children's families get them to the hospital for treatment? Where do they stay while their children are being cared for? Do they have emotional support and contact with the families of other young patients?
This "big picture" view of the physician-patient relationship explains Dr. Siegel's involvement in the first Los Angeles area Ronald McDonald House at the Childrens Hospital of Los Angeles. He has been President of the Board of Directors of Ronald McDonald House Charities of Southern California and its predecessor, Southern California Cancer Services, Inc. since 1978.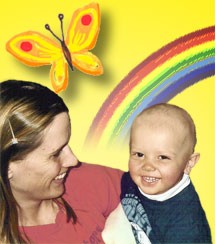 Dr. Siegel plays a pivotal role in overseeing four Ronald McDonald Houses in the Los Angeles area. He is also an integral part of Camp Ronald McDonald for Good Times. Additionally, Dr. Siegel is part of a Community Grant Program for children's causes throughout Los Angeles and surrounding areas. These groundbreaking charitable organizations provide physical, emotional and financial support to children fighting illnesses like cancer and their extended families.
Heartfelt decisions may drive Dr. Siegel's passion for pediatric medicine, but his reputation for conducting research, providing education and publishing in important medical journals are linked directly to his estimable intellect. Dr. Siegel does not differentiate between his heart and his head. He leads with both.
The accomplishments of Dr. Siegel are too numerous to catalogue in this brief introduction. Following is an attempt to hit some highlights of his particularly distinguished career. Dr. Siegel serves as the founding director of the Childrens Center for Cancer & Blood Diseases at Childrens Hospital of Los Angeles. His research in the areas of non-Hodgkin's lymphoma, lymphoblastic leukemia, neuroblastoma, new agent trials and supportive care of pediatric cancer patients are recognized on an international level.
Honors and awards have been bestowed on Dr. Siegel by the Concern Foundation, the San Gabriel Valley Unit of the American Cancer Society, the Israel Cancer Research Fund, Boston University's School of Medicine, and the Keck School of Medicine of the University of Southern California. His involvement with the Ronald McDonald House Charities in California and around the globe have spanned nearly three decades. He's also served as the chair of the Medical and Scientific Advisory Board of the National Childhood Cancer Foundation for the past two years.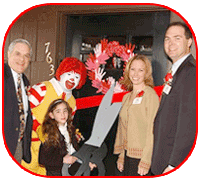 Dr. Siegel, Ronald and others at Ribbon Cutting Cermony
Annie Van Bebber, Founder and Editor In Chief of Fundraisers.Com, has a long history of altruistic involvement with Dr. Siegel. In fact, she refers to him simply as, "my dear friend, Stuart." Her many opportunities to observe Dr. Siegel firsthand led to this installment of "People Behind the Cause."
After her father's death from leukemia in 1972, Van Bebber's grief became the catalyst for her first philanthropic efforts. Her tireless efforts on behalf of The Leukemia Society of America brought her into contact with Dr. Siegel. Since then, she and Dr. Siegel have both participated in a Radio-Thon for the National Leukemia Broadcast Council and worked with the National Childhood Cancer Foundation, , T.J. Martell Foundation and the Neil Bogart Memorial Laboratories at Childrens Hospital of Los Angeles.
How did you come to focus on children in your medical practice?
I realized early in high school that I would like to work with children rather than older adults . I was further influenced by one of the foremost pediatricians in the world, Dr. Sidney Gellis. He was the Dean of the BU School of Medicine at that time.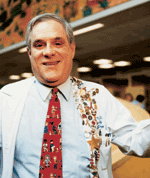 Tell us about the buttons you pin on your trademark Doctor's coat?
I first started to wear these around the time of the 1984 Olympics in LA, but I never got involved in collecting them. My patients and friends, here at the hospital, liked the pins so much they started to give me more to wear. I added some from organizations and institutions I was involved with throughout the world. The patients really like them and it helps me break the ice with them. They also really like it when I share some of the pins with them or wear one they gave me.

When, how and why did you become involved with the Ronald McDonald House?
I became involved with the Ronald McDonald House (RMH) in 1977 after talking to two colleagues: Dr. Ed Baum who started the second RMH in Chicago and Dr. Audrey Evans who started the first RMH in Philadelphia. I brought together a group of community leaders that including representatives of the LA Rams Football team (then in LA) and McDonald's to found the organization that developed and built the Los Angeles House in 1980.
We have gone on to build three other houses in the Los Angeles region, founded Camp Ronald McDonald for Good Times and developed a community grants program for children's causes. I have been President of this organization since 1978 and have served on the Global Board of Ronald McDonald House Charities since 1988.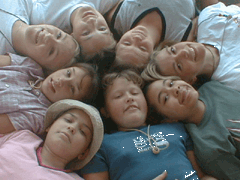 What led you to Camp Ronald McDonald for Good Times and what has your experience with campers been like?
I developed the idea for a Camp for children with cancer in 1982 after we completed and opened the Ronald McDonald House in Los Angeles. I had heard of a similar camp in the Chicago area, again from Dr. Baum. I was an avid camper as a child, primarily in the Boy Scouts of America. As a physician, I care for children with life threatening illnesses. This shakes the kids' confidence and threatens their self esteem. I felt that camp would be a way to repair that damage and show them they could do the things that other kids were able to do at camp. At the same time, the camp experience breaks the isolation that many of them feel with such diseases. Camp Ronald McDonald for Good Times has done all of that and more!
Why are children so important to cancer research?
Cancer is still the number one disease that results in the death of children despite tremendous improvements in survival over the past 50 years (10% survival to now 75% survival). The years of life lost due to cancer in children are more than that for any specific cancer of adults. Furthermore, many of the advances in the treatment of adult cancers and our understanding about the very nature of the behavior of cancer cells came from research with children. Childhood cancers are relatively rare when compared to adult cancers, but they've provided crucial research information.
-- Introduction by DeWayne Lumpkin
-- Interview by Annie Van Bebber


Read More About: Childrens Hospital of Los Angeles