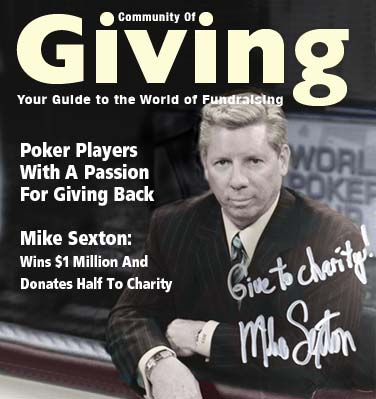 Honoring Giving Poker Players!

Mike Sexton: The Million Dollar Man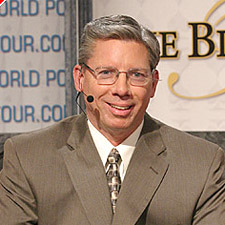 Mike Sexton, the host and commentator for The World Poker Tour is truly passionate about poker and charity. He is a former European poker champion with the coveted World Series of Poker bracelets. Mike won a million dollars at the 2006 WSOP's Tournament of Champions and pledged to donate half his winnings to five different charities.



Fundraisers.com had a chance to meet with Mike and he generously donated an autographed picture for use as a raffle or auction prize. The picture is featured above and we will reveal details at a later date on how your charity can receive autographed items like this for your cause's Charity Poker Tournament.



Read more about the 5 charities that will be receiving a donation of $100,000 each from Mike...




Special Olympics
Paralyzed Veterans of America
Wounded Warrior Project
The Buoniconti Fund
Children Incorporated

David Einhorn:
A Helping Hand For Parkinson's Research





David Einhorn is a 37 year old philanthropist and hedge fund manager from New York who happens to play poker. David surprised many in the poker community when he announced that regardless of where he finished, he would be donating 100% of his WSOP earnings to the Michael J. Fox Foundation for Parkinson's Research. The amount of his donation was determined when Einhorn busted out in 18th place, good for $659,730. As for playing for charity, Einhorn said it helped him deal with the pressure of the tournament immensely. He stated, "I think playing for the cause helped me relax."



One of Einhorn's most striking characteristics was the sweatshirt which he wore throughout the tournament. The plain blue sweatshirt, featuring painted handprints from his wife and children, was a Father's Day gift. Explaining why he wore it, he said, "I think in poker, you need to have some good hands, and I brought all my best hands with me to try to do a good job."



Einhorn is a board member of the Michael J. Fox Foundation, which he joined after he met Fox less than a year ago. Einhorn's grandfather had Parkinson's, and he is looking forward to hosting a big benefit to raise money for the cause in New York in November.



For more on the Michael J. Fox Foundation for Parkinson Research, see our Cause Celeb Feature on Michael J. Fox


Phil Gordon: Celebrity Poker Showdown Co-Host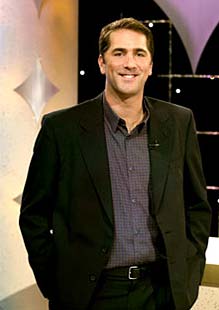 Phil Gordon is a world class poker player, philanthropist, adventure traveler, sports fan, and accomplished businessman. He is the co-host of Bravo's Celebrity Poker Showdown. During the 2003 World Series of Poker, Phil and Rafe Furst started a drive to help fund cancer research and prevention- by playing poker. They asked their friends in the poker community to pledge just one percent of their winnings at the WSOP Championship Event to the Cancer Research and Prevention Foundation as a tax-deductible donation. The idea caught on, and before they knew it, over 80 players- amateurs and pros alike- helped to raise enough to fund a grant for promising research for an entire year.



Since that first event, the Bad Beat on Cancer initiative has grown to include other major poker tournaments, home games, leagues, and has inspired some players to even pledge for life. Amateurs and pros alike have participated in Bad Beat on Cancer, helping The Cancer Research And Prevention Foundation.



Read More About Phil, and about Bad Beat on Cancer.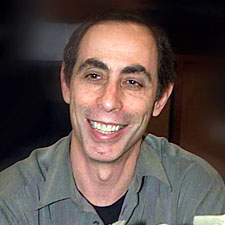 Barry Greenstein:
The Robin Hood of Poker


Perhaps the most prominent social conscience in the poker world belongs to Barry Greenstein, a regular at the Big Game at Bellagio, with Doyle Brunson, Chip Reese, Phil Ivey, Jennifer Harman and the rest of the high rent district players. Greenstein has made so much playing cash games for charity, that he has earned the colorful moniker "The Robin Hood of Poker".



Barry has donated his tournament winnings to over thirteen charities. Most of the donations go to Children, Incorporated which works to help children in 21 countries including the United States. CI is affiliated with schools, orphanages and welfare centers providing food, clothing and educational needs.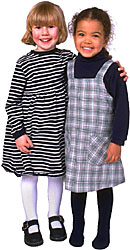 Thanks for visiting FundRaisers.com! Share it with other people for their fundraising campaigns.