The People Behind the Cause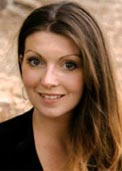 Mandy Templeton-Drake
Raising money and awareness for Ovarian Cancer

Mandy Templeton-Drake was married on October 25, 2003, which she says, was the best day of her life. Little did she know at the time that 16 days later her life was about to change forever. Her mother, Debbie Templeton was a beautiful and healthy 54-year-old woman. She didn't drink or smoke and had yearly check ups with her doctor.
In October of last year she began not feeling well, the family didn't think much about it. They thought maybe she had caught the flu or some other minor illness. Following the wedding, Mandy and her husband left for a week on their honeymoon. When they returned, Mandy's mother still wasn't feeling well and was complaining about a pain under her ribcage on her right side. She had gone to her doctor and was told it was possibly her gall bladder, and she went in for an ultrasound on Monday morning, November 10th. Later that day, she received a phone call from the doctor's office asking her to come back in and to bring someone with her. Mandy's father accompanied her to the office and at that time they were both advised that

Debbie had cancer. The assumption at the time is that it was Ovarian Cancer, but nothing was for sure until more testing was done. The doctor advised Debbie that it "didn't look good".
For the next few weeks, all of their lives were turned up side down with preparations for her "exploratory" surgery (which she was advised needed to be done as soon as possible). On November 28th, she went into surgery for four hours. When the surgeon emerged from the operating room, the family and friends that were there were given the news that Debbie's ovaries were the size of baseballs, and that the cancer had spread to her liver. The surgeon removed her ovaries, some limph nodes but he said her liver was inoperable. Following surgery, she remained in ICU. At first she was doing really well, the doctor took her off of the respirator, she was talking and laughing. Two days later she began having trouble breathing and chest x-rays indicated that her lungs were full of fluid.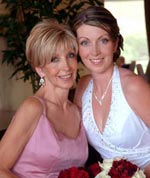 They had to place her back on the respirator, and that would be the last time that I would hear her speak. She asked Mandy to "take her home". Her 54th birthday was on December 3rd, she was not awake to see the happy birthday sign and cards family and friends had placed in her room...
On December 6th, Debbie's blood pressure began dropping and at 9:05pm she went into cardiac arrest and passed away.
Why did you get involved in this cause?
After my mother passed away, I had so many questions like how could a woman that a month before was healthy and full of life be gone? How did the doctors not catch this earlier? I wanted to make sure that other women are aware of this disease and have a better chance than my mother did.
How did you choose which Charities to support?
My mother was involved with the Relay for Life as a volunteer for the past couple years and my family and I have attended Relays before. They are a great way to raise awareness about all types of cancer, as well as a support system for survivors and those who have lost loved ones. The Gilda Radner Fund, it seemed to be the largest group spreading the word about ovarian cancer.
What are you hoping to accomplish?
When all this happened, I had no idea that there is a blood test specifically designed to look for Ovarian Cancer! It is called the CA-125. Why isn't every woman required to have this test yearly like a mammogram or Pap smear? My goal is to make all women aware of what is available to them and to educate themselves on Ovarian Cancer before it is too late.

-- Annie Van Bebber
Read More About:
American Cancer Society's Relay For Life
Gilda Radner Familial Ovarian Cancer Registry


Do you know people like Mandy Templeton-Drake?
Every cause should have an angel who has the vision and the persistence to help it reach its goal. Do you know somebody like this? Tell us about them. We're always looking for people to honor on this page. Just write us at...