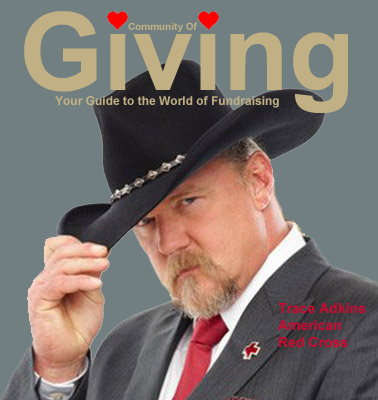 Giving Celebrity:

TRACE ADKINS


BIG HEART for the Heartland



The American Red Cross just honored Trace Adkins with their Crystal Cross Award. The organization's President and CEO, Gail J. McGovern said, "TRACE brings humor, honesty, hard work, and grit to everything he does. We could not ask for a better representative of the Red Cross.



Coincidentally, country music star Trace Adkins just raised more than $1.5 million for the Red Cross which was his charity of choice to receive his win on The Celebrity Apprentice.



On America's Newsroom he told Martha MacCullum why he competed for the Red Cross. "We all know that the Red Cross is always there when huge natural disasters like this happen, but I represented the Red Cross on the Celebrity Apprentice this year because sometimes we forget that they also respond to over 70,000 house fires a year in this country."



"Twenty-four hours a day, seven days a week, 365, there's a Red Cross volunteer somewhere in this country selflessly helping somebody," Adkins said.


The Heartland needs YOU TOO! DONATE to the RED CROSS!!

The American Red Cross is helping people in the Midwest and they need your help to supply shelter, food, relief supplies and emotional comfort after tornadoes destroyed homes and left thousands without power. As many as 26 tornadoes were reported in Oklahoma, Kansas, Illinois and Iowa, according to the National Weather Service. Hardest hit is Oklahoma, where severe tornadoes ripped through several counties, destroying or damaging hundreds of homes and leaving as many as 35,000 in the dark. The Governor declared a state of emergency in 16 counties. The Red Cross is supporting first responders and is providing shelter, food, distributing relief items and clean-up supplies and working with local and state officials to ensure people get the help they need.



The Red Cross is also helping in Kansas, Iowa and Missouri, where storms left more than 71,000 people without power.



HOW TO HELP Those who would like to help people affected by disasters like tornadoes, floods and other crises can make a donation to American Red Cross Disaster Relief. People can donate by visiting www.redcross.org, calling 1-800-RED CROSS or texting the word REDCROSS to 90999 to make a $10 donation. These donations help provide food, shelter and emotional support to those affected by disasters.


About the American Red Cross:


The American Red Cross shelters, feeds and provides emotional support to victims of disasters; supplies about 40 percent of the nation's blood; teaches skills that save lives; provides international humanitarian aid; and supports military members and their families. The Red Cross is a not-for-profit organization that depends on volunteers and the generosity of the American public to perform its mission.



For more information, please visit redcross.org or join our blog at http://blog.redcross.org


FUNDRAISING IN YOUR LOCAL COMMUNITY FOR THE HEARTLAND

To all the Giving People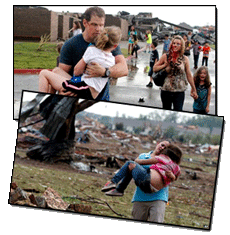 The Tornado disaster in Oklahoma is weighing heavy on everyone's hearts and minds across America and the world today. The fact that Ground Zero for the tornado was Plaza Towers Elementary School in the city of Moore, which took the lives of children, adds even more sadness. Thousands of people will need our help to start rebuilding and putting their lives back together over the coming weeks, months and even years, and we want to do what we can to help.



Justfundraising.com along with Fundraisers.com are giving away 1000 Fundraising Donation Cards – each card raises $115 for a total of $115,000 that can be donated to this worthy cause. Now we need your help to go out there and raise the funds using these Donation Cards.



With every 10 donation cards, your group can raise $1,150 for the Oklahoma Tornado relief efforts. Whether you're a church organization, a school or class, or simply an individual, this is your opportunity to help.



To find out more details about the FREE donation cards CLICK HERE



Let's work together to make a difference!



Jolian Grant
President
JustFundraising.com



Annie Van Bebber
CEO
Fundraisers.com


Call us now at 1-888-440-4114 to order your FREE donations cards

Please Note:


JustFundraising.com is a company that helps youth organizations such as schools, church groups, and youth sports raise money. We reserve the right to pre-approve groups before sending out the FREE donation cards.



Fundraisers.com would like to feature your organization or personal efforts on the website for helping to make a difference for this worthy cause. Please email givingback@fundraisers.com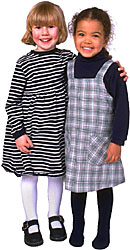 Thanks for visiting FundRaisers.com! Share it with other people for their fundraising campaigns.