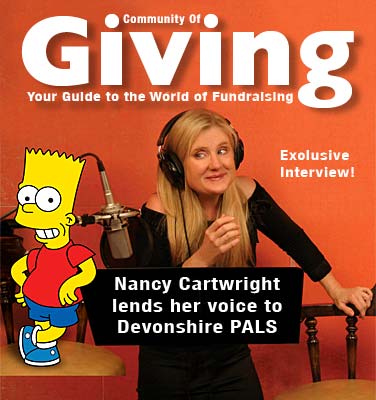 A Giving Celebrity:

Nancy Cartwright

The Voice of Bart Simpson is Bringing Light
to the Darker Side of her City

Article by Staff Writer


At a time of rising crime rates and violence in our cities, Nancy Cartwright is sounding off in an effort to make a difference. Ironically, Nancy has voiced hundreds of animated characters over the past two decades, including that of Bart of The Simpsons phenomenon. But the Emmy winner also speaks for concerned and frustrated residents in her community. So eloquently, in fact, that Northridge, California has named her their honorary Mayor. "I think they made me honorary mayor because I have a big mouth and I'm a ten year-old boy at heart," she stated modestly.



It's more likely that San Fernando Valley residents appreciate this Hollywood celebrity for her ability to affect change. "I essentially get paid a lot of money to just burp and fart," said Nancy referring to her role at Fox Studios voicing the Bart Simpson character. "I make enough money to where I can focus on good things, and I have the freedom to use my time anyway I want. I feel so blessed and this is the least I can do to give back."



Two years ago, Nancy was searching for ways to volunteer her services to her community and visited, of all places, her local Chamber of Commerce. "I don't have anything to sell," she politely interjected during a meeting, "But, I'm the voice of Bart Simpson and I want to help?"



Wayne Adelstein, CEO and President of North Valley Regional Chamber of Commerce, is also the chairman of the board for the Valley Economic Development Center. Adelstein thought that a Hollywood celebrity was just the thing that one of his pet projects needed. He assured Nancy that her heart was in the right place, but explained to her that the Chamber of Commerce might not be the higher calling she was aiming for.




Adelstein introduced Nancy to Lorraine New, President of the Devonshire Police Activities League Supporters (PALS). "Loraine has such an amazing energy and she sets the tone for the whole group," exclaims Nancy. "We have a great relationship. It's like a divine intervention, with our purposes aligned."



Nancy has served as a fundraiser for the Devonshire PALS board of directors ever since, lightening the burden of community officials campaigning for a new PALS Youth Center. So far the team of supporters has raised all but $200,000 of the $2.5 million needed to break ground on the new facility. "My celebrity status has helped," said Nancy. "We're rounding the final turn."



Creative in her methods when it comes to fundraising, Nancy invited over 300 celebrities and VIPs to her home for Monte Carlo Night last year. The private party featured a charity poker tournament and an auction to benefit PALS. "Councilman Greig Smith and his office promoted our last event as a grassroots campaign," boasted Nancy about her city official acquaintance.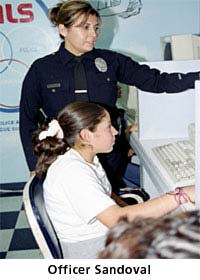 The event was not only a successful fundraiser, but it also generated a lot of local and mainstream media buzz, inevitably raising awareness. The news reached Mayor Antonio Villaraigosa who was so impressed with the performance from such a small group of volunteers that he added a $1 million grant to the collection. Nancy was so inspired by the outpouring of support that she committed herself to finishing what she started. On 29 September Nancy will host the Second Annual Monte Carlo Night. (Details at the end of this feature)



"I'm going to keep throwing these events until our mission to build the youth center is accomplished."



But the clock is ticking, and the current 800-square-foot Park Parthenia Community Family Center is temporary. Thousands of youth benefit from PALS' services and dedicated volunteers every year, making it clear that a larger facility is urgently needed.



"Officer Sandoval is there every single day," says Nancy referring to Elizabeth who runs the PALS Youth Center, "with 200 kids going through it a week." The proposed new Devonshire PALS Youth Center will allow for increased youth membership, expanding the very programs and services that will discourage, and eventually diminish, gang activity. "My employees actually tutor kids on the weekends," beams Nancy about her staff. "We even tested some of the kids for improved reading skill levels." Nancy also explains the center's strategic location. "Our neighborhood has the highest level of gang infiltration of any in Los Angeles."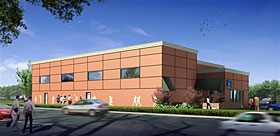 PALS is hoping to break ground on the new 5,000 square-foot facility sometime this year, but plans have been delayed due to funding requirements. "We're only $200,000 shy of our goal," exclaimed Nancy. "Once we've raised the rest of the money we can start building." The Devonshire PALS Youth Center plans include an education room for studies and homework, a computer lab, a library, a mini-gymnasium for sports programs and activities, and outdoor sport courts. The educational programs, adventurous field trips, and wholesome recreation are not only beneficial for local at-risk youth, but could turn the tide for local residences and businesses.



The simple theory of cause and effect applies to today's growing gang problem. Gangs break down a community's social structure and that perpetuates when at-risk youth lack alternative supervision, guidance, and recreation. Too often our youth have nowhere to go, are exposed to and learn to associate with gangs, and are susceptible to recruitment. Worse yet, they may become victims of crime and violence themselves. Nancy believes the Devonshire PALS Youth Center will provide Los Angeles with a long-term solution.



"This community youth center is going to make a big difference in providing education and alternative recreation. I want it to serve as a model for others in the future."


Devonshire PALS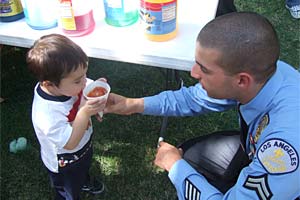 The Los Angeles Police Department (LAPD) Devonshire Police Activity League Supporters (PALS) has proved that it effectively deters gangs and prevents local crime. For more than 30 years PALS has provided after school and weekend enrichment programs for at-risk children and teens. Those programs help to build strong and positive relationships between youth and the LAPD. PALS takes a proactive approach in promoting trust and understanding between young people and police officers by bringing youth under the supervision and constructive influence of dedicated law enforcement professionals. The program is based on the conviction, that young peopleÑif they are reached early enoughÑcan develop strong and positive attitudes toward police officers and the law. Read more about PALS and how you can help their Cause... Devonshire PALS.


Click For An Exclusive Interview
With Nancy Cartwright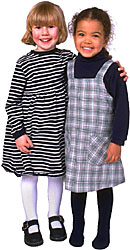 Thanks for visiting FundRaisers.com! Share it with other people for their fundraising campaigns.