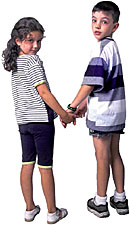 Thanks for visiting FundRaisers.com! Share it with other people for their fundraising campaigns.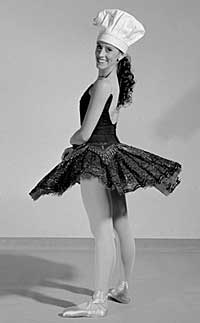 Featured Idea:

Fundraising on Tippy Toes – The Dancing Gourmet

Linda Hymes and Derek Gaffney have created a fundraising opportunity like no other. They are sautéing, simmering, pirouetting and pas des deuxing a path to charitable causes close to their hearts. The Dancing Gourmet: Recipes to Keep You on Your Toes, is a cookbook that has won prestigious awards and is now available to non-profit groups looking to match the product with the passion.

A classically trained, professional ballet dancer, Linda Hymes has spent a lifetime keeping a close eye on her tutu'd waistline. Her love of healthy gourmet dining has led to a second career as a chef; trained at none other than Le Cordon Blue Ecole de Cuisine in London, England. She refuses to sacrifice sumptuous flavor or picturesque presentation in pursuit of naturally healthy food.

Hymes' husband, Derek Gaffney, is an accomplished photographer and sculptor. His photographs of her classically inspired appetizers, entrees and desserts garnered two Gourmand food photography awards this year. The Dancing Gourmet Cookbook won a Gold Medal for Best Photography/Illustration (English/USA). It also received a Silver Medal for Food Photography in the World; chosen from 3,500 entries published in 33 languages, representing 60 countries.

These formidable partners have captured center stage and remain standing for ovations that continue to pour in. The Dancing Gourmet was recently honored with the ForeWord Cookbook of the Year Award. Accolades have been sprinkled throughout prominent food and dance publications. Cooking Light Magazine, Le Cordon Bleu's head chef, and New York City Ballet's Principal Dancer, Judith Fugate, all rave about Hymes and Gaffney's unique approach. Hymes also writes a regular food column for Pointe Magazine.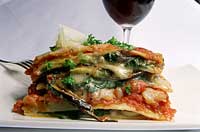 The combination of performing and culinary arts extends to health conscious recipes and atmospheric black and white photos of Linda Hymes in traditional ballet poses. The same dual sensibilities were the inspiration behind a recent foray into fundraising. In efforts to promote and support dance training, performance and appreciation, The Dancing Gourmet Cookbook is available to non-profit groups of all sizes.

Fundraising efforts are customized for cheerleading squads, dance troupes, ballet studios, jazz and tap students, and other groups struggling to fund their artistic endeavors. A recent press release says, "The cookbook can be sold through redeemable postcard mailers, student book drives, patron mailings, summer program and competition favors and corporate sales and matching grants."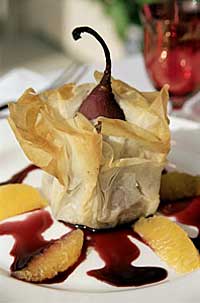 The Dancing Gourmet can initiate a fundraising drive by providing marketing tools and handling distribution. Rewards are offered for outstanding fundraising efforts. They can include one or more of the following: A free master class or cooking demonstration, and/or a private book signing in individual schools and dance studios.

Dancing Gourmet cookbooks sold through direct mail fundraising can be personalized and signed by Linda Hymes for individual purchasers. The quality of the publication guarantees satisfaction from patrons and encourages support for the arts and healthy options for young dancers concerned about nutrition.

Hymes and Gaffney donate a portion of their own profits to a scholarship fund through Career Transition for Dancers. They also actively support National Dance Week with their professional expertise, personal appearances and financial contributions.

This is an auspicious beginning, whetting our appetites for upcoming efforts by The Dancing Gourmet. Hymes has recently participated in book signing events at theatrical and dance gatherings. She also had the honor of introducing Jamie Oliver, the Naked Chef, for a recent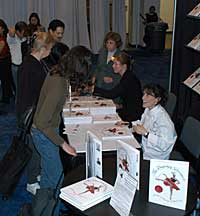 promotional appearance at the Palo Alto Borders Book Store. Her recent celebrity guest demonstrations were highlights at the San Francisco Gourmet Product Show and the Sacramento Food and Wine Show. Gaffney and Hymes coordinate their cookbook and fundraising efforts nationwide with Illinois Theatrical Dance Distributor and activities in the San Francisco Bay Area, where they reside.

A new cookbook is simmering for next year: The Nutcracker Sweet. It will focus on desserts; many inspired by the perennial ballet classic. The Dancing Gourmet hopes to have the cookbook ready prior to the next holiday season. This should provide a stunning centerpiece for holiday fundraising efforts.


-- DeWayne Lumpkin, Freelance Writer
Read More About The Fundraising Opportunity With
The Dancing Courmet

The Dancing Gourmet
Back to the Ideas Page







Don't Keep It To Yourself!


We're looking for YOUR unique fundraising ideas. Share your success stories with us and we might feature it right here on this page. Send your stories to...


idea@fundraisers.com