Featured Idea:

VolunteerMatch: Connect The Volunteers With The Cause


VolunteerMatch generally prefers to walk the walk. When required to talk the talk, they pragmatically opt for a less is more philosophy.

Their formal Mission Statement sums it up: VolunteerMatch is dedicated to helping everyone find a great place to volunteer. Their official slogan puts it even more succinctly: Get Out. Do Good. Need we, or they, say more? Probably not, but brevity is not our strongest suit. Allow us to sing the praises of VolunteerMatch.

A familiar tune from the roots of Americana repeats the refrain: It only takes a spark to get a fire going, and soon all those around will warm up to its glowing. VolunteerMatch provides the spark. Willing volunteers, worthy nonprofit organizations, and corporate partners pour on the fuel for a bonfire of satisfying opportunities; their cooperative efforts result in a warm altruistic and philanthropic glow spreading through communities across America.

The successful approach by VolunteerMatch is threefold. They provide Community Service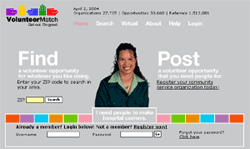 Organizations with a highly effective volunteer recruitment tool. Many small to medium nonprofit groups benefit from VolunteerMatch's powerful presence within the online community of giving. Individual volunteers receive instant access to a wealth of opportunities linked to their geographic location, age range, passion for particular causes, and hours of availability for service. VolunteerMatch 's corporate services provides over 20 companies with a far more efficient method of maximizing corporate volunteering efforts.
"VolunteerMatch is designed to make it easier than ever for anyone to find a rewarding way to volunteer," said Jason Willett, director of communications for VolunteerMatch. "We succeed because our community is made up of a network of nonprofit, volunteer and business leaders committed to civic engagement."
This triple threat to apathy encourages participation by all sectors of the philanthropic community: Volunteers, Community Service Groups, Corporate Partnerships. The simplicity of the idea and the development of powerful software have been the keys to VolunteerMatch's success. Their website is amazingly easy to navigate. It includes an evolving list of elements used to narrow a potential volunteers search for opportunities to work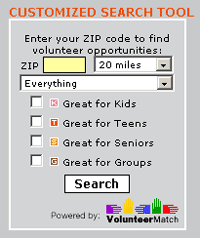 with organizations. This criteria leads to potentially satisfying volunteer experiences and promotes ongoing and growing levels of volunteer participation. The result: individuals and organizations blazing with passion for service to others.
Community Service Organizations are encouraged to register with VolunteerMatch. They are rewarded for registration with services to assist with the recruitment and management of volunteers. All tax-exempt organizations are eligible to register including: social, civic, charitable, educational, governmental, and political groups. This growing community is composed of over 25,000 organizations representing more than 30,000 volunteer opportunities.
What nonprofit organizations are saying about VolunteerMatch:
"Thanks again for making your site available to volunteers. Our little Village Temple Soup Kitchen in New York City, which feeds 150 needy people each week, has had over 1000 page views in the last 9 months and over 100 new volunteers since I listed our opportunity on the VolunteerMatch site. It has really made a difference."
J. Dean Chavooshian, Chairman, Village Temple Soup Kitchen
"Thanks to VolunteerMatch, we have had an overwhelming response to our volunteer opportunities. In fact, we have had so many volunteers that we have been able to create extra volunteer opportunities! Thanks to VolunteerMatch, our program is expanding. And best of all, the service is so useful that I can keep up!"
Bev Kay, Board Member, The Holiday Project
Many individuals feel a burning desire to serve others and discover difficulties finding a fulfilling opportunity. VolunteerMatch makes is as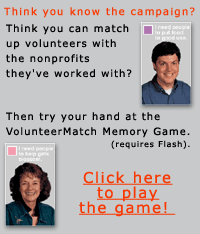 easy as the click of a computer mouse. After logging onto their website, visitors are prompted to enter their ZIP code. Further information results in a wide range of volunteer opportunities located within most communities.
The criteria used to assist with matching volunteers to opportunities and organizations includes: personal causes of interest, professional and technical skills, scheduling and availability, and geographic location. Frustrations involved with securing meaningful volunteer appointments melt away as a wealth of options blaze to life through clicking cursors. To date, VolunteerMatch, has provided more than one and a half million volunteer referrals.
What volunteers say about VolunteerMatch:
"I just want to thank you for your wonderful service. I found the perfect opportunity 2 blocks from home! I will be a general office aid for the Bronx YMCA for 2 days a week. I would never have found it without your service. Again, thank you very, very much."
Emma Padilla, Volunteer, The Bronx YMCA of Greater New York
"I found VolunteerMatch and thought it was very helpful. It's a much easier way to find a place to volunteer."
Sophia Wu, 8th Grade Volunteer, Canyon Hills Jr. High,
Chino Hills, California
"I visited your site earlier in the year, and contacted our Zoo to become a volunteer. I just completed Docent training there and am having the best time. At the Zoo, I feel as if I'm making a difference. I'm helping animals and teaching others to respect all living creatures, even those normally unloved like reptiles and amphibians."
Barbara Mathieson, Volunteer, Nashville Zoo
A customized, co-branded version of VolunteerMatch , "VolunteerMatch Corporate," is licensed to corporations, making it easier for employees to volunteer. Corporate partners and participating companies read like a who's who list of Fortune 500 and/or Blue Chip corporations. They include: Nike, Dell, Microsoft, AT & T Wireless, Verizon, Target, Coca-Cola, Charles Schwab, Lexmark, Merrill Lynch, Lucent Technologies, and Gap, Inc., among others.
Numerous studies have demonstrated an increase in job satisfaction and employee loyalty when opportunities to give to others are made available. Such volunteer opportunities include assistance with special events, ongoing volunteer positions, and technical/professional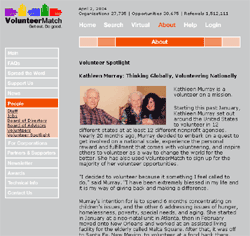 services offered on a pro-bono basis. Participating companies are well aware of the benefits derived from a partnership with VolunteerMatch Corporate. They're staunch supporters and consistent benefactors of this valuable service; lighting fires under uninitiated companies is a pressing goal. VolunteerMatch strives to help companies realize the potential benefits of a work environment that promotes giving to others.
What VolunteerMatch Corporate Clients have to say:
"VolunteerMatch Corporate is an efficient and fun way that enables our employees to 'expand their playing field' and get involved in the community. Compared to traditional methods of gathering and communicating volunteer information, VolunteerMatch Corporate has made opportunities for community service more accessible to employees. It also provides us with a convenient way to track and recognize employees for their efforts."
Gina A. Warren, Director of Global Community Affairs, Nike
"The Coca-Cola Company and its employees are committed to bringing value to communities nationwide through volunteerism and community service activities. By providing our employees access to VolunteerMatch, we give them direct, fast and easy connections to organizations throughout the country that need volunteer support. At The Coca-Cola Company, VolunteerMatch has proven a valuable resource for our employees and a great tool for Reaching Out, our Company's employee volunteer program."
Dominique V. Love, Manager, Corporate Contributions, The Coca-Cola Company
Fundraisers.Com is not alone in singing around VolunteerMatch's community campfire. Their user-friendly website has won Webby Awards and honors have been received from the Smithsonian Institution and MIT. The Wall Street Journal, The New York Times, The Washington Post, USA Today, Forbes, ABC News, CBS, MSNBC and the Oprah Winfrey Show have melted proverbial s'mores around the flames ignited by VolunteerMatch's exemplary services. This choir of admirers spreads the warmth and encourages everyone to "pass it on."
-- DeWayne Lumpkin
Read More About:
www.volunteermatch.com