Causes That Inspire

Global Volunteer Week


Compassion, service, empathy, understanding...combine these words with privilege, talent, skill, energy...and you have a composite picture of the heart and soul of many volunteers. These elements tell us much more than a head shot or group photo ever could.
Volunteers come in every age, size, shape, and race. They're impossible to profile; crossing boundaries of geographic location, income level, educational attainment, philosophical mindset, and religious persuasion. Some sort through e-mail databases to keep donors abreast of charitable developments. Others provide their legal, financial, promotional, management and training skills on a pro-bono basis. Still more change sickbeds, lend an ear, hold anxious hands, and yes, ladle soup and prepare sandwiches in "soup kitchens" across the country.
National Volunteer Week celebrates a myriad of vastly different individuals with two things in common: a concern for others and the tenacity to turn their concern into proactive volunteerism. "Volunteers Inspire by Example," is a fitting theme for this year's National Volunteer Week, happening in April. Event organizers feel the theme, "reflects the power volunteers have to inspire not only other people to volunteer but also the people they serve."
National Volunteer Week was created by President Richard Nixon's executive order in 1974. Three decades of subsequent Presidents have continued the tradition of "celebrating and recognizing the power and spirit volunteers give back to this country."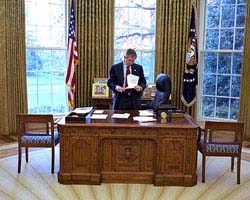 White House Photo by Eric Draper
President George W. Bush's Council on Service and Civic Participation instituted a new recognition award to coincide with National Volunteer Week in 2004. The award is intended to honor sustained commitments and significant achievements by American volunteers. In addition, such national recognition is expected to inspire others and encourage more individuals to assist neighbors with urgent needs and those in dire circumstances.
The President's Volunteer Service Award is available to kids, young adults, adults and families/groups. Recipients of the award receive: An official President's Volunteer Service Award pin; a personalized certificate of achievement; a note of congratulations from the President of the United States and a letter from the President's Council on Service and Civic Participation.
Volunteering is a year-round, twenty-four hour a day, seven days a week enterprise. Every minute of every day, someone is volunteering their time, energy, and talents to help others. One week a year,

these efforts are acknowledged and attempts are made to increase volunteer commitments across the country.
Special efforts are being taken to recognize and inspire young people toward volunteer service this year. National Youth Service Days kick of the week of activities on the weekend of April 23rd. This campaign is being spearheaded by Youth Service America. It is being billed as the "largest national day of service focusing on youth volunteering."
On the opposite end of the spectrum, The National Association of Area Agencies on Aging will hold their 2004 MetLife Foundation Older Volunteers Enrich America Awards this April. A fairly recent addition to National Volunteer Week, the program celebrates its second year of support. They say, "The goal of this awards program is twofold: to acknowledge exemplary older volunteers and to encourage older Americans to contribute their knowledge, skills and time to enrich society through volunteerism."
During National Volunteer Week, every year, USA Weekend announces the winners of its "Make A Difference Day" competitive awards. These awards are sponsored by Paul Newman, a noted actor, director, and active philanthropist. The awards are bestowed on the ten most outstanding service projects. USA Today also devotes their entire Sunday issue, during National Volunteer Week, to volunteering.
According to the Points of Light Institute & Volunteer Center National Network: "During National Volunteer Week, organizations such as volunteer centers, nonprofits, businesses, government agencies, military units, hospitals, communities of faith, and schools host awards ceremonies recognizing millions of our nation's volunteers for their outstanding contributions to their communities over the past year." Additionally, "Thousands of volunteers participate in local community service

projects (during National Volunteer Week)."
Last year's National Volunteer Week included an estimated 2,400 events nationwide. Almost 500,000 volunteers participated in recognition ceremonies and community service projects. Media participation is key to promoting volunteerism during this week of critical visibility. The Points of Light Institute coordinated media efforts and worked with sponsor, AT & T during 2003's various events.
They estimate, "Over 1,600 journalists at over 700 media outlets targeted 115 outlets in the AT & T market areas. The media outreach resulted in over 300 mentions in outlets across the country reaching an audience well over 15 million people." National Volunteer Week Toolkits are available to assist organizations participating in this year's events. These Toolkits contain media forms and promotional materials to assist organizations nationwide.
During this year's National Volunteer Week, take the opportunity to acknowledge individuals who generally toil in obscurity. Most volunteers don't advertise their humanitarian efforts. It's a wonderful thing that our nation observes, honors and congratulates their efforts on an annual basis.
It takes a unified effort to help raise the national common denominator through compassion and service. Look around for people you know that actively sacrifice their time and talent in the service of others. Take this opportunity to thank them; and most important of all, learn from their example. Follow the lead of a volunteer and volunteer.
-- Annie Van Bebber
Read More About:
The President's Volunteer Service Award