Causes That Inspire
Going Beyond "It's All Good"
Skookum Means…Very Good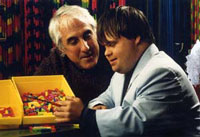 Jim Westall didn't set out to be a pioneer in the burgeoning field of social entrepreneurship; he simply had a heart for his special education students and was frustrated and saddened by the virtually nonexistent employment opportunities facing them after graduation. A simple hand/eye coordination exercise became the genesis for a modest nonprofit company that has grown exponentially into a multifaceted training and employment program for legions of disabled and disadvantaged workers.
Skookum Educational Programs is the company's formal name, representing an impressive group of ventures led by Jim Westall and a stellar group of dedicated professionals. They have built a reputation for providing reliable workers, consistently excellent products and services, and legendary customer relations.
The name, Skookum, is drawn from regional slang (Chinook Indian Jargon to be exact) and heralded the arrival of a groundbreaking nonprofit entity in the Pacific Northwest. The word Skookum holds a variety of meanings, all of them complementary: Well built, strong, well made…very good.
Skookum Jump Rope Company

Prior to founding Skookum in the Pacific Northwest, Jim Westall served the Port Townsend School District as a Special Education Teacher. His students struggled with physical and mental disabilities. Their eye/hand coordination was developed by stringing colored beads onto strings. Once these exercises were complete, the beads were removed from the strings and the process started all over again.
In a flash of inspiration, Westall connected the colored beads on a string to a marketable product, jump ropes. This, rehabilitation with a purpose, began during classes in 1981 and later moved to a donated garage. The Skookum Jump Rope Company was founded in 1988. It was a perfect vehicle to employ disabled workers with very limited chances to succeed in self-sustaining employment. From the very beginning, Westall gauged his success in something other than monetary returns; social benefits became the mark of measurement…not dollars and cents.
Skookum's Jump Rope Company continues to train disabled workers and often provides entry level positions for workers who have been unsuccessful securing employment in the mainstream job market. The jump ropes created by Skookum workers are top-of-the-line exercise equipment with a notably nostalgic appeal. They've been offered to school/church/civic groups as an increasingly popular fundraising tool. The jump ropes are available as finished products or in kits that students can assemble themselves.
Marie Campanoli, Executive Support Director of Public Relations for Skookum holds a soft spot in her heart for the Jump Rope Company. It's where she began providing her special brand of supportive training and professional support to individuals being trained at Skookum. She's excited about Jump to the Challenge, a new opportunity for Business and Corporate Sponsor to join forces with Skookum.

Jump to the Challenge is a new program being launched to increase awareness about their product and improve the physical fitness of students across the country. Corporate and Business Sponsors are being sought to provide funding for school wide assemblies conducted by Rene Bilbaud, World Rope Skipping Champion.
Rene Bilbaud's assemblies are being billed as "a brow-raising, awe-inspiring, hands on motivational presentation that shows kids that getting in shape can be fun, inspiring, and TOTALLY AWESOME!" Recent reports on health challenges facing young people include lack of exercise and a rise in adolescent obesity. Skookum's Jump to the Challenge confronts inadequate nutrition and insufficient physical activity with a high-voltage fitness program that makes exercise FUN!
Skookum, Inc.
Providing Employment for Physically & Mentally Challenged Individuals
As Skookum's reputation for doing "very good" work continued, additional opportunities were presented to Jim Westall in 1991.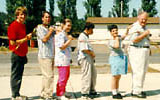 Because these proposed ventures held the potential to employ a substantial number of diverse, disabled individuals, Westall was unable to turn them down and Skookum, Inc. became a reality. This newest venture initially became a reality through a number of Government Contracts for janitorial services.
Satisfied customers include the U.S. Navy, Army, and Coast Guard. Janitorial contracts help employ workers with special needs at a variety of private and government locations across the state of Washington. Additionally, positions are available in Skookum's recycling business and their hazardous materials abatement business. Skookum provides employment for almost 600 people; more than three quarters of these are physically or mentally challenged.
Some of these disadvantaged workers were previously considered unemployable. Those who managed to get jobs usually worked for minimum wage. Employees at Skookum are rewarded for their hard work, after training and placement, with wages ranging from $8 - $38 per hour. The average salary for a Skookum worker is approximately $33,000 per year. There are individuals in the hazardous materials abatement division of Skookum that have the opportunity to earn as much as $70,000 per year.
Skookum receives very little financial support from traditional community grants, charity drives, government subsidies, and philanthropic donations. They are considered a model for nonprofit social service providers; almost completely self-sustained through products sold and services rendered.
Working Image Boutique at Skookum
Skookum has a history of responding quickly to needs as they present themselves. New program services are consistently added to an already impressive list of options for Skookum employees. Their Program Services division, "helps place people with disabilities in jobs in the community, works with the Welfare to Work participants and runs Skookum's Working Image Boutique," according to Marie Campanoli.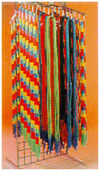 She reports further, "The Working Image Boutique is filled to the brim with donated clothing appropriate for job interviews. It is staffed by some wonderful volunteers who spend 1 – 1 ½ hours with each individual client. The client leaves the Working Image Boutique with three full outfits appropriate for upcoming job interviews or a new job."
Several social service agencies refer women to the Working Image Boutique. These include: DSHS Division of Vocational Rehabilitation, WorkFirst, Domestic Violence, Community Action and Peninsula College. Personal attention is given to each client at Skookum's fashionable enterprise.
Many clients credit Skookum's Working Image Boutique with helping them secure employment. Complete outfits are selected for their appropriateness to the job interview process. The supportive environment improves their self-image, confidence, and determination…along with their personal appearance.
The boutique was furnished with clothing racks donated from supportive businesses; local residents provided the labor to remodel the facility. The store is staffed by volunteers and high quality clothing is donated by generous individuals.
These impressive ventures are just a sample representation of the services offered by Skookum Educational Programs. Skookum views challenges faced by disabled and disadvantaged workers as opportunities to implement new service programs on a regular basis. We only have two questions to ask Jim Westall: 1) What's next for Skookum? 2) How do you say Excellent, Inspirational and Impressive in Chinook Indian Jargon?
-- DeWayne Lumpkin

Read More About:
Skookum Jump Rope Company