Fundraisers.com presents the first of what will become a regular feature on our website - Guest Editorials. We invite organizations to submit articles related to one of our categories of content - Causes, Ideas, People and Resources.
Our first Guest Editorial is from Suzie Lettunich and it highlights the many contributions of Seattle's prestigious advertising firm Horton, Lantz & Low (HL2) to the Polycystic Kidney Disease cause. Suzie was featured as a "Person Behind the Cause," for PKD at Fundraisers.Com last October and we're pleased to include her insights into a cause close to her heart.
HL2 rallies the country to Walk for PKD
On September 18 and 19, the PKD Foundation will host the annual Walk for PKD to raise awareness and funds for research in Polycystic Kidney Disease. As the pro-bono agency of record for the organization, HL2 created a kit of marketing materials to promote the event in more than 40 cities across the country.

"The Walk for PKD is organized entirely by volunteers who live in different parts of the country," explained Suzie Lettunich, HL2's associate creative director. "Many are organizing a Walk event for the very first time. So these tools are a huge value to the national effort."
Horton Lantz & Low created the Walk for PKD logo, registration forms, posters and public service announcements for radio and TV. HL2 also negotiated new web technology allowing participants to register online, start a team, make donations, build a personal home page, email friends and family, and track fund-raising progress and much more.
"PKD is very under-funded compared to less-prevalent diseases. And lack of awareness has a direct affect on their ability to raise funds," said Suzie. "That's why this work is so critical to the Foundation and so meaningful for the agency."
Guest Editorial
It's more than personal - It's critical.
Join us in the annual Walk for PKD across the country, Sept. 18-19

by Suzie Lettunich
As a patient with polycystic kidney disease, an active volunteer with the PKD Foundation, and someone who works in advertising and marketing, I get a lot of the same questions: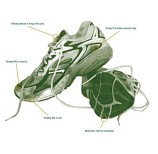 "Why hasn't anyone ever heard of PKD?"
"What are we doing to raise awareness and funds?"
As we prepare for the annual Walk for PKD, I wanted to provide some answers. In part, they explain why the Walk for PKD is so critical to the PKD Foundation and their mission to one day put an end to this devastating disease.
A brief background on PKD
PKD is the most common, genetic life-threatening disease affecting 600,000 Americans and 12.5 million people worldwide. PKD affects more people than cystic fibrosis, muscular dystrophy, Down syndrome, hemophilia and sickle cell anemia - combined.
Polycystic means "many cysts" form on each kidney, ultimately causing renal failure. There is no treatment and no cure, with dialysis and transplant as the only options to prolong life. The PKD Foundation employs just 20 people in Kansas City, MO - with the remainder of support coming from volunteers located in major cities across the country.
Raising awareness and funds for PKD research

Raising awareness (and funds) takes a lot of time and money that most non-profit organizations, like the PKD Foundation, simply do not have. It takes a great deal of repetition to even get on the radar of the unassuming public, who are not seeking out your message.
For example, think of the car you drive. How many ads did you see on TV or in print before you had heard of this car? How many brochures or Web sites did you visit? Did any friends recommend it? It's possible you may not have noticed the ads, or this particular car, at all - despite the fact that most car manufacturers spend hundreds of millions of dollars a year to raise awareness of their automobiles.
If those kinds of deep pockets can't raise awareness, how can we.a humble group of well-intended staff and volunteers?
The power in numbers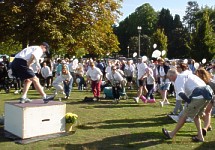 Stretching to Prepare for the Walk
The Walk for PKD is our single greatest opportunity to pool our resources - both staff and volunteer - to raise awareness and funds for PKD. By hosting the event in major cities across the country, all on the same weekend, we increase our chances of securing media coverage. We build on the synergy and camaraderie that comes with a large-scale event. We also maximize administrative resources on a single weekend, which saves hundreds of hours and thousands of dollars - which, in turn, goes to PKD research.
Since 2001, the Walk for PKD has grown from a small, grass-roots event to a unified, national effort with marketing and administrative support from the PKD Foundation. Thanks to the amazing work done by volunteers across the country, we continue to build momentum.
We're looking to double what we raised last year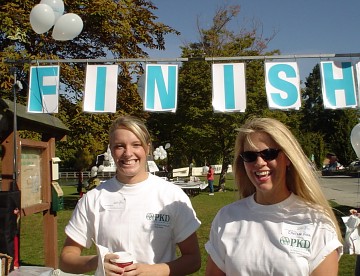 In 2003, the national Walk for PKD effort raised just less than $500,000. This year, we have set a lofty goal of doubling that amount. While our aspirations may be a bit more optimistic than realistic - we are working hard to make it happen. The key, of course, is to look outside the immediate PKD family - by reaching outside our circle of influence.
This year more than years past, we are looking to our communities to enlist friends, family members, colleagues and even mere acquaintances to join us in the Walk for PKD.
In fact, that's how I first encountered Fundraisers.Com. I was seeking ideas, opportunities and avenues to spread the word about PKD and raise funds for research. A simple Web search led me to this site where I have since spent time sharing ideas and success stories with other nonprofit organizations that have similar needs and challenges.
We also have increased the number of marketing materials available to support the Walk for PKD effort. All of the creative services were donated, so we are anxious to see benefits from that investment which includes: posters, registration forms, public service announcements for radio and TV, and press packets to generate media interest. Also new this year is a highly robust Web site that makes it easy to register online, create individual Web pages, build teams, make online donations, keep track of fundraising goals, and even send emails to everyone on your list to enlist their participation and financial support.
Mark your calendar for the third weekend in September!
Every Walk for PKD event will be held the third weekend in September (either Sat/Sept. 18 or Sun/Sept. 19). More than 40 events will take place across the country. The Walk for PKD is a fun, community event with prizes for the individual and team that raise the most funds. And you'll often find food and fanfare at the finish line, complete with goody bags for each participant.
To meet our fundraising goal, we need the power of many individuals coming together. By setting our goals high and working hard to reach them, we can make a huge difference in raising funds and awareness for PKD.
For more information on how to volunteer for the Walk for PKD, please call 1-800-PKD-CURE.. To start a team, register for the Walk for PKD, or to make a donation, please visit: www.pkdcure.org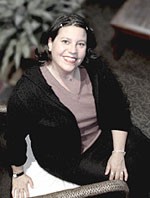 Suzie Lettunich is a patient with PKD. She is the coordinator of the PKD Foundation - Seattle Chapter and a member of the Chapter Advisory Committee. She served as chair of the Seattle Walk for PKD the past two years and currently serves as the chair of the national Walk for PKD effort. Suzie is a copywriter and associate creative director at Horton Lantz & Low -providing marketing and advertising solutions for clients such as Microsoft, Vail Resorts, Seattle's Best Coffee and others, including pro-bono services for the PKD Foundation.
PDK Experts Offer Hope
by DeWayne Lumpkin
There have been some very promising breakthroughs in PKD research in the last decade. Family histories have led to a greater understanding of the genetic nature of the disease. Genes directly related to both forms of PKD have been isolated and are undergoing clinical analysis in animal and human studies. Encouragement can be found in the answers to the question: Is there any hope of finding a cure for PKD?
Our expert panel includes: Dan Larson, President and CEO of the PKD Foundation; Dr. Arlene Chapman, PKD Researcher and Professor of Medicine, Emory University, Atlanta, Georgia; Dr. William Bennett, Medical Director of Transplantation and Director of Renal Research at Legacy Health Systems in Portland, Oregon; and Dr. Jing Zhou, Associate Professor of Medicine, Harvard Medical School and Director of the Laboratory of Molecular and Developmental Genetics.