Creatively Competing for Record-Breaking Charitable Campaign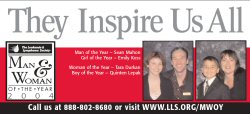 Overstatement is rampant and media-driven in our society today. It seems that every product is the "World's Greatest" or the "Best on the Planet." Bestowing a fundraising campaign with the title "Man and Woman of the Year," may seem like promotional hype. However, in the case of The Leukemia and Lymphoma Society's annual competition, it's actually a striking case of understatement.
Los Angeles competitors in The Leukemia and Lymphoma Society's recent "Man and Woman of the Year" campaign competed on behalf of two children, Quinten Lepak and Emily Koss. These youngsters were honored as the the Greater Los Angeles Chapter's Boy and Girl of the Year for their individual battles with blood cancer.
The champions of this fierce competition – Tara Durkan winning for Woman of the Year and Sean Mahon capturing Man of the Year – amply deserved their prestigious titles for collectively raising almost $135,000 in a mere eight weeks. The combined efforts of 17 participants totaled more than $300,000.
Hundreds of men and women in The Leukemia and Lymphoma Society's Chapters around the country selflessly raise funds to cure leukemia, lymphoma, Hodgkin's disease and myeloma. Their efforts improve the quality of life of patients and their families.
| | |
| --- | --- |
| | Sean Mahon & Tara Durkan |
In return, Tara and Sean have been treated to larger-than-life billboards recognizing their contributions and increasing awareness about the Society. The billboards are generously donated by Van Wagner Communications and Clear Channel Outdoors. Their fundraising efforts will also be acknowledged by USA Today and the Los Angeles Business Journal.
Senior Campaign Manager, Clare Cameron, was clearly stunned by the results of this year's competition. "We raised $100,000 last year and $99,000 during our first campaign two years ago. This year we tripled the amount raised, that's amazing," she says.
Clare credits the participants' enthusiasm, creativity and solid connection to their communities for the record-breaking results. "We had presidents of companies, CEOs and business owners who were supported by their co-workers, friends and clients." She explains, "Everyone participating was very competitive and their individual progress was top secret. No one knew anyone else's totals until the final event."
The kick-off party was held at Kai Restaurant, a chic dining spot in Santa Monica that coordinated its Grand Opening with The Leukemia and Lymphoma Society's campaign. On September 8th, the paint was barely dry on their walls when they feted participants in the breakneck spree of competitive fundraising.
After eight frantic weeks of events, the Man and Woman of the Year candidates were recognized by guests of The Leukemia and Lymphoma Society at a Grand Finale Celebration on November 5th. It was, literally, a red carpet and confetti affair that Fundraisers.com was thrilled to attend.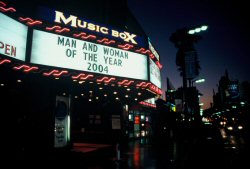 The festivities were held at the Henry Ford Theatre in Hollywood. The evening included fabulous food, cocktails, entertainment and both live and silent auctions. Quentin and Emily - Boy and Girl of the Year - attended to thank those raising money in their honor.
Fundraisers.com would like to acknowledge all of the participants by listing the total amount each raised with a few notes about particularly creative fundraising events.
There were eight women, including Tara Durkan, who raised a jaw-dropping $74,309, earning her the Woman of the Year title. "Raising money for The Leukemia and Lymphoma Society was a way for me to honor my beloved dad, who died of leukemia a year ago, and work on healing my own grief."
Durkan explained, "My dad had taught me most of what I know about business, so I decided I should try raising funds by following his business principles. So that's what I did! I would sum up my strategy like this: Treat fund-raising like your own small business. Create a team of fund-raising entrepreneurs to help make the business a success - but always remember that you are personally responsible for your results. And don't forget to have fun!"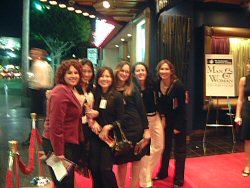 Ruth Hernandez held a Baja Fresh special discount evening at the popular eatery and generated $2,840. Robyn Shreiber raised $18,637 with a letter writing campaign. Hilary Gushwa staged a Monday Night Football event and raised $3,405. Andi Lane hosted a wine tasting at legendary steakhouse, Arnie Morton's in Sherman Oaks; her contributions totaled $5,730. Cathy Perez's total was $4,146 which included a $3,000 sponsor. Natalya Petrosova raised $2,930 with letters. Terri Burns, who conducted a letter writing campaign, sold raffle tickets and tickets to the Grand Finale, brought in $10,667.
Nine candidates were in the running for Man of the Year and the winner was Sean Mahon who is a personal trainer and actor. His most creative and successful venture was a boot-camp style workout with participants pledging between $500 and $1,000 for a grueling 90-minute workout. He raised a total of $60,456.
The other candidates included John Bernal who threw a cocktail party on the roof of the Gas Tower and raised $13,537. Dan Brescoll generated $12,543 with a letter writing campaign. Scott Holmes hosted a Hollywood party and wine tasting at Dominik's in Beverly Hills and raised $14,755. Dennis Lord organized a car show and brought in donations totaling $35,050. Spencer Ludgate raised $3,129. Mitch McMullen crammed the eight week schedule with a pie-throwing competition, barbecue with local firefighters, wine tasting and pumpkin carving competition for $15,030 in donations. Russ Reeder raised $9,789 with a private dinner at The Magic Castle in Hollywood. Ric Perez raised $2,775 with a letter writing campaign.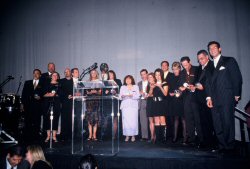 It's difficult to fathom an improvement on this year's results, but Clare says efforts are underway to synchronize the Los Angeles Chapter's campaign with events throughout the United States. Having corresponding events – on a nationwide level - should increase awareness and participation in the event.
Clare says several candidates formed committees to help them coordinate their efforts and increase the amount they raised. Sean Mahon, Man of the Year, says, "I didn't have to do it alone. I had a great team that helped me along."
He adds, "It's a matter of giving people the opportunity to find a home for their charitable work and to commit to something. That's a perfect resolution for the New Year; it'll make you feel good." He estimates that about 1,000 people donated to his winning effort.
Sean thinks others will enjoy competing in The Leukemia and Lymphoma Society's Campaign as much as he did. "Regarding the competition between the candidates, the key was the attitude that Clare, the Campaign Manager, and her team displayed in the Los Angeles office. They never let on to what the rest of the competitors were doing and they always encouraged us to do our best. The great thing about the competition was that no-one knew who was winning right up to the end as we had auction items that were going to add to our final numbers".
Candidates were required to raise a minimum of $2,000 to compete in the Grand Finale at the Henry Ford Theatre. Fundraising events were held and totals continued to climb through the eleventh hour. In addition to the various fundraisers, candidates wrote letters and sent e-mails requesting donations in their name. They also sold raffle tickets for his-and-hers' Tag Heuer watches and invited friends and business associates to buy tickets to the Grand Finale.
| | |
| --- | --- |
| Quinten & Emily | |
Candidates were inspired by two amazing children battling blood cancer - Quinten and Emily. The benefactors of their efforts will reap rewards for years. Clare Cameron says, "Since the Society's founding in 1949, more than $360 million has been invested in research."
Sponsors of the event included Van Wagner Communications, who donated one of the billboards. Their Sales Representative Matthew Cooper commented, "We've supported this campaign for the last three years. I'm glad that Van Wagner has given me an opportunity to be part of something so special. It was great attending the dinner and seeing Quinten and Emily glowing onstage. It felt really good!" Other sponsors of the event were Nestle Food Service, Clear Channel, William Gregory Mortgage and J & J Snack Foods.
The Greater Los Angeles Chapter's Man & Woman competition bucked the prevailing trend of heaping praise on mediocrity. Instead, they bestowed well-deserved honor on individuals who exhibited compassion, concern, creativity and selflessness throughout a stringently competitive fundraising campaign.
---Dewayne Lumpkin
---Annie Van Bebber

About the Cause

The Leukemia & Lymphoma Society is the world's largest voluntary health organization dedicated to funding blood cancer research, education and patient services. The Society offers a wide variety of programs and services in support of their mission to cure leukemia, lymphoma, Hodgkin's disease and myeloma, and to improve the quality of life of patients and their families.

The Society is a nonprofit organization that relies on the generosity of individual and corporate contributions to advance its mission.

Read more about
Do you know of a Worthy Cause?
If you have a worthy cause that should be featured in our Magazine…send email to causes@fundraisers.com.