Chris Burke: Acting on his Conviction for Down Syndrome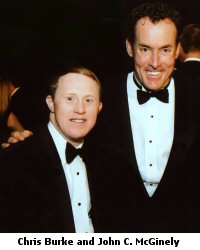 It's not unusual for actors to lend their celebrity and visibility to causes that have personally affected them. If a charitable organization is lucky, they might attract a particularly familiar and appealing celebrity spokesman. It never hurts if the famous actor starred on a much-loved television series and was nominated for a Golden Globe Award.
The National Down Syndrome Society (NDSS) did more than attract a talented and highly regarded actor. They were fortunate enough to find favor with a Hollywood personality who is a living example of everything they're hoping individuals with Down syndrome will achieve. Namely, lives full of promise, opportunity and fulfillment.
Chris Burke, Golden Globe nominated star of ABC Television's popular family drama, "Life Goes On," has spent more than a decade promoting the Down syndrome cause for NDSS. Burke just so happens to have been born with an extra Chromosome 21 and deals with his Down syndrome on a daily basis.
Down syndrome is a genetic condition resulting in varying degrees of physical characteristics and developmental delays. In addition, individuals with Down syndrome sometimes experience a higher frequency of certain health problems. These include Congenital heart defects, increased susceptibility to infection, respiratory problems, and obstructed digestive tracts.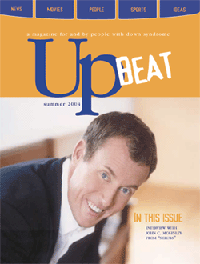 At his birth, Chris Burke's parents were advised to institutionalize him. This is the kind of advice and mentality that NDSS has tirelessly fought to overcome. Thankfully for Burke, the doctor's advice was not followed. He graduated from Don Guanella School in Springfield , Pennsylvania in 1985.
As education about Down syndrome has improved, early intervention programs and educational opportunities have improved the lives of children, teens and adults with the condition. Burke's acting accomplishments include a semi-regular role on CBS Television's "Touched by an Angel." He continues to act with appearances on "The Commish," a role in "Jonathan, The Boy Nobody Wanted," and the ABC mini-series "Heaven and Hell." Burke is best remembered as Corky Thatcher on "Life Goes On."
Chris Burke's visibility extends beyond Hollywood 's small screen. He published his autobiography, "A Special Kind of Hero," in 1992 and has filmed public service announcements with President Bush and Tracy Ullman. Burke was also invited to march in President Clinton's inaugural parade. His list of awards includes a Christopher Award and a Youth in Film Award. He was honored in his hometown, New York City , by having a NYC Public School named after him.
In addition to his Hollywood celebrity status, Burke serves as a Goodwill Ambassador for the National Down Syndrome Society. He does more than lend his name and face to their cause. Burke serves as editor-in-chief of their quarterly magazine written by and for people with Down syndrome. The magazine, formerly called "News & Views" has just undergone a complete redesign and been given the highly appropriate name UpBeat Magazine. The premiere issue was published in July.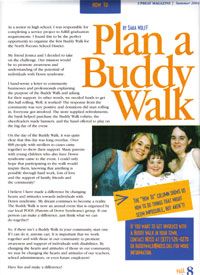 NDSS' UpBeat Magazine accepts submissions about a wide variety of subjects from individuals with Down syndrome. Burke maintains a hands-on approach to the look and content of the magazine. In an interview for The Family Connection and The Osmond Network LLC, Dr. Beth Milligan says, "Chris is my friend." She supports his efforts with the NDSS and adds, "It is truly important that society develop attitudes that will permit people with Down syndrome to participate in life to the fullest and be accepted as human beings." She goes on to say, "If you have the chance to meet someone like Chris, please get to know them and you too will gain a new friend."
In addition to UpBeat Magazine, the NDSS maintains a website for individuals with Down syndrome. "Club NDSS" is the name and "learning, playing and connecting," is the aim at this online resource. It's fun, informative and…it's UpBeat! Visitors are encouraged to connect with each other and the community at large. They're entertained, informed and inspired by a wide range of content that's easy to navigate.
The main NDSS website features "Information" and "Resources" sections that include content on health, development, education and life planning. Individuals touched by a family member, friend, neighbor or classmate with Down syndrome will find that the NDSS offers insight and hope for the future.
NDSS' websites are places to spend meaningful time, either alone or with a loved one. Visitors will find articles and information about Down syndrome and wonderful stories of accomplishment and acceptance from across the country and around the world.
-- Fundraisers Staff Writer
Photos and images appear courtesy of the National Down Syndrome Society. The mission of NDSS is to benefit people with Down Syndrome and their families through national leadership in education, research and advocacy. For more information call (800) 221-4602.
For more information visit
Do you know of a Worthy Cause?
If you have a worthy cause that should be featured in our Magazine…send email to causes@fundraisers.com.