Causes That Inspire
Ben's Wishful Thinking:
A Video Game with Kids Fighting Cancer
The Greater Bay Area Make A Wish Foundation
Ben Duskin has much in common with other nine year-olds. He has a loving family and good friends.

He likes to play basketball and video games. At five, Ben received news that made him distinctly different than most of his peers. He was diagnosed with lymphocytic leukemia, a life-threatening condition.
The ensuing medical treatments at University of California – San Francisco (UCSF) resulted in nausea and hair loss. However, Ben's spirit was impervious to these negative side effects. He imaginatively visualized Pac Man gobbling cancer cells as he played one of his favorite video games.
Ben used his magical logic (the kind that usually disappears with the onset of adulthood) to conclude that a video game, directly related to his fight against cancer, would be…beyond cool. Ben's parents took his idea to the local headquarters of an organization famous for turning children's fantasies into reality: The Greater Bay Area Make A Wish Foundation.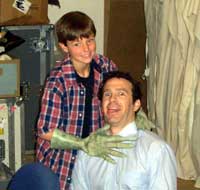 Ben and Eric
Countless trips to amusement parks, sporting events, exotic locales, and entertainment venues have been arranged for children fighting life-threatening diseases. They've been visited by A-list celebrities and gifted with bicycles, stereos, skateboards, and computer equipment. Wishes from children struggling with disease have run the gamut from the tried and true to the truly exotic.
The cancer fighting game proposed by Ben Duskin was striking for several reasons. No child had ever requested the production of a high-tech disease-fighting mechanism. The logistics involved in creating a video game were complex; some said impossible…or impossibly expensive. The question rarely comes up, but this wish must have had more than a few wish granters wondering: Can we really pull this one off? These were uncharted waters for the Make A Wish Foundation.
Patricia Wilson, Executive Director of the Greater Bay Area Make A Wish Foundation, was struck by an even more profound distinction in young Ben's wish. "He's the ultimate philanthropist, the youngest one I know," she says. "He could have asked for anything, a bike, a stereo…but he asked for something that would not only help him, but other children struggling with life-threatening diseases. That's pretty remarkable"
It was Wilson who first dipped her toe in the high-tech gaming waters. The water was cold. It looked like the Make a Wish Foundation might not be able to make Ben's dream a reality. She persevered. Ben's request was posted on message boards at internet gaming websites. The unique proposal caught the eye of a gamer and was forwarded to Eric Johnston, a video game programmer at Lucas-Arts.
Johnston donated his personal time while Lucas-Arts gave him permission to use their cutting-edge equipment, facilities, and technology. The project was a serious commitment for Johnston and Ben. Every Tuesday after school, for six months, they met and designed "Ben's Game."
Ben was involved in every aspect of his namesake game's design. The titular character was created from a digitized photograph of Ben. Patricia Wilson adds, "No one's picked up on this yet, but players of the game have an opportunity to tailor the main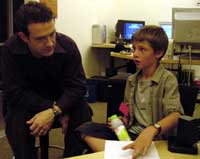 character after themselves." Cut-out templates can be personalized with different characters and pets. There's even a bug; a bug that would ordinarily be corrected once it was discovered. At a distinct time, for no apparent reason, Ben's video game counterpart takes flight. No one knows why. "Ben forbid Eric Johnston to fix it," says Wilson, "he thinks it's really cool."
Other glitches have been corrected after being discovered by kids receiving treatments at UCSF where Ben's Game is readily available for play on the children's ward. You couldn't ask for a more enthusiastic team of Beta Testers for a video game. These particular players can truly identify with the game and enjoy the opportunity to viscerally attack the sources of their disease and accompanying symptoms.
The villains in the game include: Colds, barf, chicken pox, fever, bleeding, hair loss, and rash. They are represented, respectively, by: Iceman Monster, Robarf Monster, Big Chicken Monster, Fire Monster, Vamp Monster, QBall Monster, and Tornado Monster. As Ben (or a personalized character) battles the monsters, the interactive video game utilizes three levels of health: Health you get from the hospital, Ammo you get from the pharmacy, and Attitude you get from home.
The response to Ben's Game has overwhelmed seasoned professionals at the Make A Wish Foundation. Patricia Wilson admits, "I really didn't know what to expect, but I can tell you…I didn't expect this." She estimates more than 75,000 "hits" on the website since the media began covering the story. Newspapers, websites, television stations, and radio networks have been inspired by Ben Duskin and his game.
Ben's Game is, and always will be, available as a free download from the Make A Wish Foundation. More than 35,000 players have downloaded the game so far and the numbers grow more impressive daily. Ben's Game is scheduled for a formal Launch Party later this month at UCSF. Eric Johnston and Ben Duskin will be in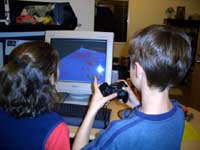 attendance, and the final version of the video game will be released.
Johnston remembers the creation process fondly, "From the beginning, Ben was amazingly articulate and brought design ideas that I never could've come up with. It was a great use of my spare time on Tuesdays for six months." He credits Lucas-Arts for their technical support of the project.
Ben's leukemia is in remission and his doctor says his prognosis is good. Perhaps the most powerful lesson all of us can take away from Ben Durbin, Eric Johnston, Patricia Wilson, and everyone involved with Ben's Game: Next time you blow out the candles on a cake…remember…make your wish count…sometimes wishes come true. The Make A Wish Foundation makes sure they do for children battling life-threatening diseases.
-- Annie Van Bebber


DeWayne Lumpkin
For more information Click Here