Do you know of a great product we might have missed? Drop us a line and let us know about it at...


products@fundraisers.com






Fundraisers Products

Product Category: Victory Scratch Cards

---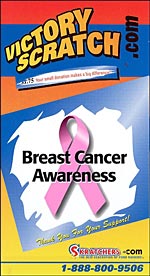 Victory Scratch Cards:

A New Way To Raise Money
And Awareness For Your Cause!


Customized To Your Cause with your cause or group name and logo.



Thank Your Donor with inspirational quotes.



Each Card Raises $115 and costs only $15, so your cause makes $100 in profits on each one.



Special Offer of 15% FREE cards.



FREE Shipping and 30 day financing.


Find out more! Call toll free 1-888-440-4114



ORDER NOW on the Victory Scratch Card Page

How Does It Work? Simple...


Each fundraiser begins with one Victory Scratch card. Your volunteer approaches donors, family, friends, neighbors and business relationships and asks them to:


Scratch one or more boxes, revealing donation amounts, from 50 cents to $3


The total amount uncovered is the amount of their donation


With each donation, the donor receives an inpirational Victory Quote


When all boxes are scratched off, you will have raised $100 net profit PER CARD!


You Can Raise More... Quickly!



Please Note: You may order any number of scratch cards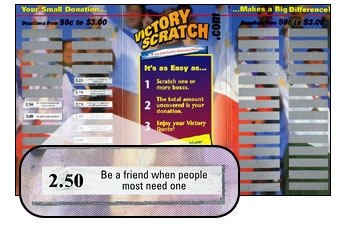 Sponsor Customization Available:


Coupon offers can be printed for your business supporters and added to each card to be given out to donors.


Success Story: Victory Scratch Cards For Tsunami Relief


"Our elementary students were moved to do a fundraisers for the unfortunate victims and survivors of December's devastating tsunami in South Asia. Our Student Council got the idea from JustFundraising and used Victory Scratch Cards during the month of February. Our K-6 students raised a total of $1042.40 for the American Red Cross Tsunami Relief Fund." --Mrs Sandy Davey, Lewis Center


Find out more! Call toll free 1-888-440-4114



ORDER NOW on the Victory Scratch Card Page