Featured Idea:

Frozen Turkey Bowling: A Fun & Fantastically Foolish Fundraising Idea
What do you get when you cross the enduring American past-time of bowling with a 20 lb. frozen turkey and throw in a worthy cause for good measure around Thanksgiving time?

A) A wonderfully, whimsical event for worthy causes.
B) A magnet for grabbing media attention.
C) A perfect fundraiser for food banks, schools, and churches during the holidays.
D) A memorable way to give thanks by helping others.
We say: All of the above. Frozen Turkey Bowling takes place at Copper Mountain in Colorado and a few mostly-Midwestern communities on a small scale. We have yet to see the inspired silliness of this idea exploited to its full potential. We'd love to see an organization with particularly creative vision give this wacky fundraising concept a whirl and let us know how it works out.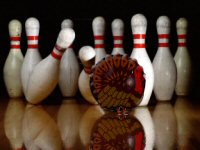 We decided to engage in a session of folksy brainstorming with limited editing of our, admittedly, "off the top of the head" fantasies drawing from an inner adolescence and infantilism that rises up around the holidays. We look forward to hearing from organizations that incorporate any of the elements we're offering with a crooked smile and open hand. What've you got to lose?
We're fairly certain the idea of sponsors paying someone to walk five miles seemed a little radical at the time, but the concept of a Walk-A-Thon had to start somewhere. Maybe someday Frozen Turkey Bowling will be as much a part of marking Thanksgiving holidays as green bean casseroles, pumpkin pies and cranberry sauce. You never know!

Financial Considerations

• The cost of materials is relatively inexpensive, especially if the location or facility is donated. Local bowling alleys may be willing to loan pins that are no longer being used or simple wooden pins could be made for the event. Turkeys that are kept frozen until the beginning of the event should last for the duration without thawing. A single lane, or limited number of lanes would be optimal because the event is as much about spectators as participants. A place for donations from attendees that opt out of bowling should be provided.

• Structuring the cost of participation is important. It seems that one dollar per turkey toss would be a good mark. That would allow multiple attempts and ensure affordability for potential participants.

• Prizes could be offered for anyone "bowling" a strike. These prizes should be donated from local merchants and some effort should be made to ensure that the parameters of the set-up don't lead to an over abundance of strikes. A few trial runs the day before the event is advisable for working out the kinks.

• To increase the amount of funds raised, predetermined donors could "sponsor" the event by offering to donate a pre-set amount for every strike bowled during a specific time period. If supporters of the organization offer to cover $100 worth of strikes, participants may pay $1 per bowl in hopes that each strike would result in a $10 donation from "sponsors."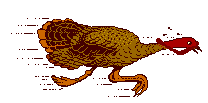 Potential Turkey Bowling Sites
• Outdoor ice-skating rinks are ideal sites for Frozen Turkey Bowling. If temperatures have dropped to freezing levels by Thanksgiving this would be an optimal location for an event.

• If the climate in California or Florida or Arizona isn't conducive to creating outdoor ice lanes, hold the event at an indoor ice skating rink. A weekend afternoon event may result in a facility rental donation from a philanthropic rink owner.

• A grocery store parking lot (or other business location) should draw crowds with frozen lanes created from a summery outdoor toy: Slip-N-Slide. Left overnight with trickling water, the durable plastic sliding surfaces would ice over and provide the proper proportions for an impromptu bowling lane. Inexpensive cinder blocks could be used to contain the frozen turkeys along the edges and eliminate chasing turkeys all over the parking lot. For a large event, several Slip-N-Slides placed side-by-side would create a virtual outdoor bowling alley.
Creative "Bowling" Equipment
• Indoor ice-skating rinks may be concerned about damage to their skating surface and options should be considered before approaching owners about the use of their facilities. Fairly small frozen turkeys are available and may alleviate these concerns and prove easier for participants to handle. Frozen Cornish game hens may be handy for younger participants and be used for public participation with actual "frozen turkeys" reserved for publicity and demonstrations. Press releases may need to play on the word "poultry" to accurately represent events where full-size turkeys can't be accommodated.

• Regulation size bowling pins may raise similar issues for ice-skating rink surfaces. Children's plastic bowling pins can be drilled, filled with sand and sealed with hot-glue to provide targets with less potential for surface damage. These pins may also be better proportioned to Slip-N-Slide lanes and/or Cornish game hen "bowling balls."

• Sliding frozen turkeys on ice-skating rink surfaces may be fine, but dropping them while bowling may be a concern. If this is the case, consider leaving frozen turkeys on the ground and allowing participants to use hockey sticks to aim and shoot their turkeys toward the pin targets.

• Adjusting an idea to fit a facility or climate may lead to additional creative concepts. If knocking pins down is problematic, providing hockey goals for targets may be a solution. Adjusting the event to Turkey Hockey may do the trick. Cornish game hens may augment larger turkeys for increased participation and a Frozen Poultry Olympic-style event.
There are a few pragmatic considerations related to an event based on frozen surfaces and cumbersome turkeys. Limit the size of turkeys to a range of manageability for a variety of participants. Make sure that lanes created outdoors are clearly marked and surrounding surfaces are kept safe with rock salt, gravel or some other material providing traction for attendees. Also, consider containing bowling lanes with some sort of "fence" using cinder blocks, split rails or railroad ties.
The business of fundraising is often a very serious affair. Certainly, organizations dealing with medical issues, societal injustices and community support have weighty matters on their minds daily. Sometimes offering an inventively diversionary fundraising event can result in media attention, willing donors and loads of laughter. We think Frozen Turkey Bowling has the potential to put smiles on the faces of nonprofit supporters while raising funds for worthy causes.

-By Annie Van Bebber